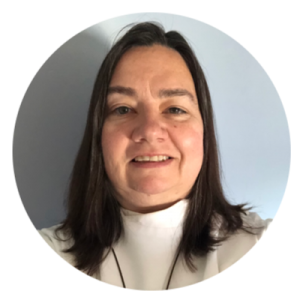 Before Lisa Loughlin volunteered to distribute sandwiches for the Outdoor Church, her view of the homeless was the same as most people's – she wondered how they came to live on the street.
Now the Woburn native and divinity school graduate is the Outdoor Church's new minister. She will lead the program's Sunday worship services at Porter Square and the Albany Street shelter, and take part in Sunday outreach and midweek pastoral care in Harvard Square and Central Square. She'll also support men and women who go to the city's Homeless Court, and twice a month she'll lead Bible studies at the shelter, among other activities.
That's a full slate of pastoral duties, all of them more demanding amid restrictions from the Covid-19 pandemic. But Loughlin says it's what she feels called to do. "Jesus talks about what we do for 'the least of these'," she said. "And my heart feels a connection to them. So many of the people we see feel that the Church is not for them, and I have felt that way."
Loughlin grew up Roman Catholic. She drifted away from the faith of her upbringing, until her spiritual search led her to First Congregational Church in Winchester in 2010. She felt at home in the church's emphasis on social justice, and its welcoming attitude for people of all kinds. Meanwhile, she worked as a restaurant manager.
In 2011 she began volunteering with the Outdoor Church as part of First Congregational's Saturday outreach team. It was her first person-to-person contact with the homeless. "The stories we heard were heavy on my heart," she said. "I thought, I'm supposed to do this." In 2015 she began her studies at Andover Newton Theological School. She graduated in 2018 and has been approved for ordination by the UCC's Metropolitan Boston Association. The Outdoor Church will be her parish.
When she's ordained, she says her message to the men and women on the street will be what it has been for years: "They're loved by God. That's part of my journey too."